The North Jersey News Center
is the
ONLY

true radio newsroom in
North Jersey.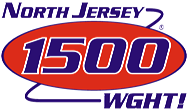 All the News that happening in our community.
Live News Broadcasts that directly impact your life.
E-mail the North Jersey Newscenter or
send a fax to (973) 839-2400.

The North Jersey Newscenter covers the news from Bloomingdale, Butler, Franklin Lakes, Haskell,
Kinnelon, Lincoln Park, Mahwah, Oakland,
Paterson, Pequannock, Pompton Lakes,
Pompton Plains, Ringwood, Riverdale, Wanaque, Wayne and West Milford.
World coverage happens on the hour with
AP-Head Line News. Local North Jersey News follows from the North Jersey 
Newscenter seven days a week.

Click here to listen live!